DOCERAM relies on 3D CAD product catalog powered by CADENAS for its digitization strategy
New 3D CAD Portal enables online configuration and CAD download of digital twins for welding fixtures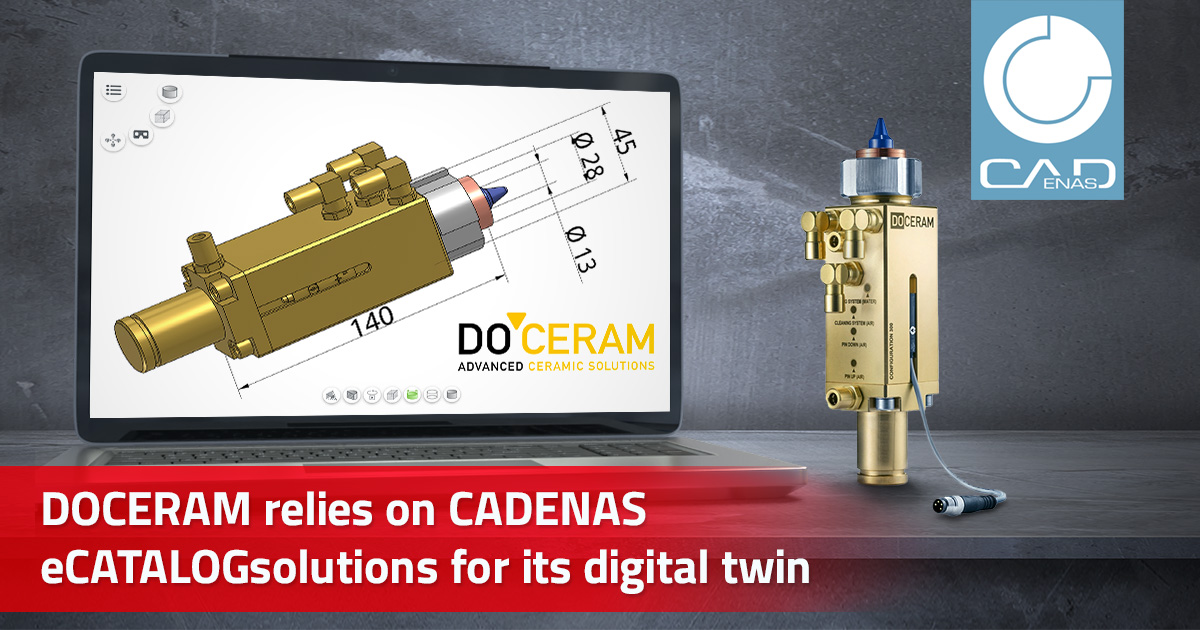 DOCERAM GmbH, a MOESCHTER Group company, has been specializing in the development and manufacture of high-performance ceramic components for industrial applications for more than 20 years. In addition to the design of top-quality products for the mechanical engineering and automotive sectors, digitization is also an essential component of the company's strategy.
In September 2019, DOCERAM published its new 3D CAD portal based on the eCATALOGsolutions technology powered by CADENAS GmbH. At https://doceram.partcommunity.com digital components for welding technology are available as intelligent engineering data in more than 150 CAD formats for free download and thus effectively support engineers and designers in the development phase.
Implementation of digital twins with CADENAS technology for product catalogs
Product Lifecycle Management (PLM) is generally regarded as an important key element of digitization: Intelligent, virtual product models that have been enriched with all the necessary information are indispensable. In order to further advance the company-wide digitization strategy, DOCERAM was therefore faced with the challenge of digitizing its product data and making it available as digital twins. The aim was to make their low-wear components built of high-performance ceramics as well as their assemblies available to the design offices and departments in the mechanical engineering and automotive sectors for the planning process as customer-specific and user-friendly as possible.
"Until now, the product information of DOCERAM's standard range was only available as a printed catalog. We were confronted with the challenge of how to digitize and create internal data models, including the implementation of a component configuration, without losing sight of costs, time and personnel resources," says Jens Cremer, responsible Key Account Manager Automotive at DOCERAM GmbH. "With its established software technology, professional consulting and project management support, CADENAS was able to make a major contribution to the implementation of our 3D CAD catalog."
Now the products and assembly components, which have been used by leading OEMs in the automotive market for 15 years, can be used digitally in product development for the first time and quickly transferred to bill of materials. In addition, the CAD portal offers an individual rule-based online configuration, which is also supported by the eCATALOGsolutions technology from CADENAS. This enables customers and interested parties to customize welding fixtures according to their individual requirements and transfer them directly into the CAD systems used within the company.
Positive feedback for the DOCERAM 3D CAD download portal at the Blechexpo in Stuttgart
The CAD portal was presented for the first time in early November 2019 at the Blechexpo international trade fair in Stuttgart. The response to the digital CAD product catalog from customers and trade fair visitors was overwhelming. Project managers and responsible persons from the field of welding and joining technology were impressed by the possibilities of configuring and downloading CAD models: "The digitalization of welding technology parts and their assemblies provides extreme time and cost savings in design. This allows simulations with assemblies and their components to be carried out early on in the planning stage," stated a trade visitor to the DOCERAM stand at Blechexpo.
Digital product data enables virtual simulation
The digital twin based on the eCATALOGsolutions technology by CADENAS opens up even more possibilities for DOCERAM: Shortly after the introduction of the 3D CAD portal, a strategic partnership with the EngRoTec group was announced, a professional solution provider for simulation and robotics in the automotive and mechanical engineering industries. With the 3D CAD portal, DOCERAM products and components can be tested virtually in advance in designs. This significantly shortens project and design times for the customer.
"The 3D CAD portal from DOCERAM will be the interface between CAD designs and simulations in the future. Digitalization allows CAD data to be integrated quickly and cost-effectively. Now innovative components and assemblies made of ceramics and high-performance plastics can be configured quickly and easily," explains Jens Cremer. "The welding and mechanical engineering components are just the beginning. For the year 2020, we plan to include further products and materials in our digital 3D product catalog".
"DOCERAM sets standards in mechanical engineering and welding technology with its ceramic products. The low-wear components with service lives that exceed conventional metallic materials by a factor of 40 to 50 must meet the highest demands. Our ambition was to also reflect this quality standard in the digital product data," says Markus Poppinghuys, Branch Manager CADENAS Solutions GmbH, Essen.
The 3D CAD download portal from DOCERAM can be found at: https://doceram.partcommunity.com
More information about DOCERAM can be found at: https://doceram.com/en/
Further information about the technology for Electronic Product Catalogs is available at:
www.cadenas.de/ecatalogsolutions