PURCHINEERING – Collaborazione ottimale tra Engineering e Acquisti
Controllo dello sviluppo dei costi
Per poter competere a livello internazionale le aziende devono mantenere i costi dei loro prodotti i più bassi possibile. Questo può essere raggiunto innanzitutto attarverso una collaborazione ottimale tra l'Engineering e gli Acquisti. E' in questo ambito che si colloca la cosiddetta strategia PURCHINEERING collegata alla Gestione Strategica delle Parti..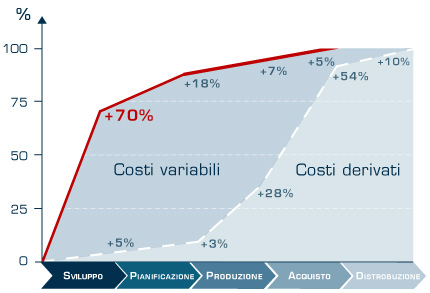 Per ridurre in modo effettivo e duraturo i costi aziendali devono essere prese le giuste decisioni per tempo. Nelle industrie meccaniche, circa il 70 % dei costi totali del prodotto sono influenzabili già durante la pianificazione, nella fase di sviluppo del prodotto, mentre successivamente ciò non è più possibile.
Spesso, durante la fase di progettazione del prodotto, i diversi reparti aziendali hanno un'idea differente dei componenti migliori da utilizzare: mentre l'ufficio acquisti preferisce il componente più economico, il progettista sceglie il miglior prodotto a livello tecnico.
La strategia PURCHINEERING, nell'ambito della Gestione Strategica delle Parti, ha lo scopo di colmare la distanza tra l'Engineering e gli Acquisti: il termine PURCHINEERING deriva dalle parole inglesi »Purchase« ed »Engineering« e prevede la collaborazione ottimale tra questi due reparti. Tramite questa strategia vengono ottimizzati moltissimi processi aziendali: definizione univoca delle procedure di approvvigionamento (evitando il Maverick Buying), supporto nella scelta di utilizzare componenti di fornitori o propri interni (Make or Buy), selezione dei fornitori migliori considerando tutti gli aspetti del prodotto, consolidamento dei fornitori e componenti utilizzati, riduzione dei costi aziendali con l'utilizzo di parti commerciali, informazioni sulla End of Life e conoscenza in anticipo dei futuri costi di produzione del prodotto.
Evitare il Maverick Buying
Molte aziende non dispongono di una procedura di approvvigionamento standardizzata. Questo crea il cosiddetto "acquisto selvaggio" di componenti, noto anche come Maverick Buying: l'approvvigionamento dei componenti non viene controllato centralmente e i componenti possono essere ordinati direttamente da diversi reparti dell'azienda, senza passare dall'Ufficio Acquisti.

Nel Maverick Buying l'approvvigionamento di componenti non è controllato centralmente (a sinistra). Una procedura di acquisti ben definita attraverso l'Ufficio Acquisti centrale (a destra) si ottiene tramite l'utilizzo ottimale di prezzi per quantità, la riduzione di fornitori e il consolidamento di componenti simili già utilizzati in precedenza.
Risposte alla domanda: Make or Buy ?
Molte aziende lavorano internamente la maggior parte dei propri componenti, nonostante siano disponibili sul mercato le corrispondenti parti commerciali. Il maggior utilizzo di parti commerciali lascia maggior spazio alla produzione di quei prodotti che sono davvero specifici dell'azienda. Nella decisione Make or Buy deve essere analizzato esattamente il tipo di know-how che serve per un dato componente, ovvero quali parti potrebbero essere tranquillamente acquistate all'esterno. Alzare lo sguardo verso l'esterno è davvero vantaggioso: la ricerca di componenti nel mondo delle parti commerciali di fornitori esterni e l'utilizzo di componenti uguali o simili a quelli prodotti internamente porta a una riduzione dei costi del prodotto del 40% e oltre.
Global Sourcing – La scelta dei fornitori migliori
Molto spesso i prodotti vengono sviluppati, ad esempio, in Germania e i componenti acquistati dai fornitori nazionali più economici e poi spediti nel mondo nelle proprie sedi produttive.
Qui entra in gioco la strategia di approvvigionamento Global Sourcing. Essa ha come scopo quello di utilizzare le fonti di approvvigionamento internazionali. Per questo la scelta del fornitore non può basarsi solo sul prezzo del componente, ma deve tener conto anche dei costi di trasporto, che a volte possono essere superiori al prezzo della merce stessa. Per minimizzare il dispendio nei trasporti, la scelta dovrebbe privilegiare quei fornitori che dispongono di sedi internazionali e possono quindi spedire i prodotti dal luogo più vicino alla sede produttiva dell'azienda.
La Gestione Strategica delle Parti supporta le aziende nella selezione di fornitori globali e nella creazione di rapporti commerciali durevoli. Per quanto riguarda i fornitori, vengono mostrate le nazioni in cui sono presenti e in questo modo è facilmente visibile dove un particolare produttore ha delle sedi all'estero che possono provvedere alle spedizioni internazionali.
Trasparenza dei prodotti e dei fornitori
Nella scelta del componente più adatto per un prodotto devono essere tenute in considerazione molte informazioni e proprietà diverse. Responsabili acquisti e progettisti vengono supportati nella loro scelta in modo ottimale, rendendo possibile il confronto tra le caratteristiche commerciali e tecniche di un componente.
Per fornire anche una panoramica delle possibili alternative, viene eseguita automaticamente in background la ricerca di parti geometricamente simili al componente che si sta prendendo in considerazione. I risultati della ricerca possono infine essere confrontati uno accanto all'altro verificandone la loro idoneità.
Gestione degli articoli C
Gli articoli C costituiscono solo il 20 % del volume di acquisto ma quasi l'80 % dei costi di approvvigionamento. Rispetto ai costi aziendali, il loro prezzo di acquisto è davvero sproporzionato. Per questo il consolidamento dei fornitori e delle parti tramite la gestione degli articoli C porta a un risparmio considerevole nei costi di approvvigionamento.
Con il Kanban vengono concordati con il fornitore il prezzo, il luogo di magazzinaggio e la quantità a scorta di un componente. I componenti necessari alla produzione vengono prelevati dal magazzino al bisogno e il fornitore si occupa di ripristare la quantità minima da tenere a disposizione. La quantità reale di componenti utilizzati viene poi fatturata mensilmente. Grazie all'eliminazione di attività lavorative come la ricerca del prodotto sul mercato, le procedure di autorizzazione, la richiesta di offerte e il loro confronto, l'emissione dell'ordine, il controllo acquisti, l'accettazione della merce e il controllo delle fatture, è possibile ridurre i costi di circa il 60 %.
Per poter sfruttare al massimo il potenziale del Kanban, i responsabili acquisti possono vedere a colpo d'occhio nella gestione delle parti quali componenti sono gestibili con questo sistema e quindi quale fornitore Kanban scegliere.
Gestione delle modifiche
I componenti fuori produzione che sono stati utilizzati nel processo di sviluppo del prodotto possono causare costi elevati. Il dispendio di lavoro nella ricerca di alternative e il rischio di incompatibilità nella progettazione possono implicare modifiche sostanziali della progettazione originale.
I componenti che vanno fuori produzione sono sempre più frequenti, in quanto i produttori desiderano offrire costantemente ai loro clienti nuovi prodotti e innovazioni. E' dunque importante che i progettisti siano preparati in anticipo e non abbiano spiacevoli sorprese. Le informazioni sulla End of Life dei prodotti e sui componenti che li sostituiranno permettono agli ingegneri una pianificazione sicura durante la loro progettazione del prodotto.
Design2Cost
Affinché un'azienda possa assicurarsi anche in futuro la propria capacità competitiva, la conoscenza dei futuri costi di produzione di un prodotto è sempre più importante. La previsione in anticipo dei costi dovrebbe essere considerata già durante la fase di progettazione del prodotto, in modo che si possano cercare i componenti più economici ma di pari qualità. In questo aiuta sicuramente un'analisi dei costi effettuata sulla base di richieste di offerte di parti standard e commerciali o l'analisi dei prezzi di componenti standard, commerciali o interni uguali o simili già presenti nel proprio sistema ERP o PLM.
I prezzi delle parti standard e commerciali dei maggiori fornitori internazionali possono essere verificati velocemente con la Gestione Strategica delle Parti, che consente anche di fare un calcolo dei costi preventivo. Per quanto riguarda le parti interne, è a disposizione la ricerca per similarità geometrica di componenti simili per stimare il più esattamente possibile il prezzo del prodotto in futuro basandosi sui prezzi già presenti nel sistema ERP.
La strategia del PURCHINEERING è realizzabile nell'ambito di una gestione strategica delle parti, che consente l'integrazione dei sistemi aziendali ERP, PLM e CAD già utilizzati in azienda. Essa permette alle aziende di ridurre fortemente i costi già durante la fase di progettazione del prodotto grazie alla collaborazione ottimale tra ufficio acquisti e reparto progettazione, potendo così consolidare e mantenere anche in futuro la propria conpetitività sul mercato.
Questo articolo è comparso in forma simile nella categoria 'Wissen Kompakt' di IT&Production. Il report CADENAS nella rubrica "Product Costing" si può trovare nel numero speciale "Product Lifecycle Management & Engineering 2014/15": www.it-production.com/media_container/wissen_kompakt/PLM_2014.pdf
Per maggiori informazioni sulla Gestione Strategica delle Parti PARTsolutions e sul PURCHINEERING:
www.cadenas.it/gestione-delle-parti/motivazione e www.cadenas.it/purchineering/it/collaborazione-tra-acquisti-et-engineering