Holography device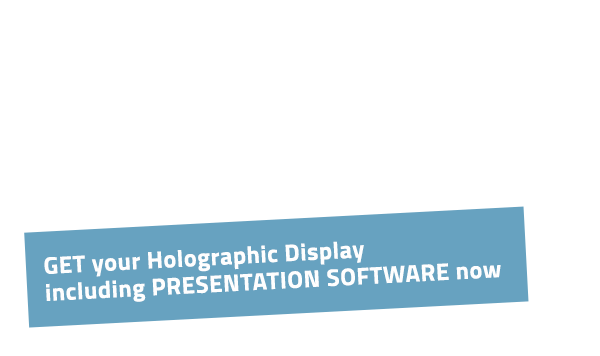 Pimp up your booth with the tradeshow entertainment solutions by CADENAS.
Create the perfect illusion with a holographic device and content from our services either by premium upload/download from PARTcloud.net or direct access with your Electronic Product Catalog.
Don' let valuable contacts pass and make them stop by with free floating animations and representations of your products.
How does it work?
After figuring out the details of your exact needs, we will provide you with the display hardware and also access to our cloudbased software solution to get you your content where and when ever you need.
You'll be able to upload any STEP, OBJ or STL file and let our service PARTcloud.net do the trick of generating a perfectly tailored holographic display solution that'll will work online and offline.
See some examples here:
Holography in action
Technical Data for a small device
560 mm x 420 mm x 342 mm (WxHxD)

weight: Net:18 ±1.0 kg Gross: 22±1.0 kg

resolution: Full HD 1920x1080

audio speaker: 10W x 2

power input: 90~264 Vac, 50/60Hz

videoinput: 1x HDMI , 1x SD slot

video formats: WMV, MP4, AVI, MPEG1/2/4, H.264 and VC-1
Interested?
If you are interested in further information or a specific quotation on our holographic display solution, please use our contact form to send your request or contact sales@cadenas.de
You can also get in touch with one of our subsidiaries by phone:

Augsburg, Germany + 49 (0) 821 2 58 58 0 - 0
Vienna, Austria + 43 (0) 664 2 45 27 13
Bologna, Italy + 39 (0) 51 04 16 776

Châtillon sur Chalaronne, France +33 (0) 4 74 55 26 96
Bristol, United Kingdom +44 (0) 7949 69 67 51