TALENTS WANTED
MONEY PRIZES
TOTAL VALUE OF
€7,500
SHOW US YOUR TECHNICAL DESIGNS!
ENGINEERING NEWCOMER
THE COMPETITION FOR CREATIVE MINDS
Are you a student working on a creative project or thesis in the field of engineering as part of your studies or training?
Then you've come to the right place! Send us your design including project description (project drawings, photos, screenshots, task, components used) by July 31, 2023.
WHY PARTICIPATE?
Prizes are waiting for you with a total value of
€7,500!
The best projects will be awarded with attractive prize money for both you and your educational institution.
WHAT TO DO?
1.
You sign up yourself or your team via the registration form for the Engineering Newcomer 2023.
2.
We set up a personal access to our cloud and send you the access data and all necessary information by email.
3.
You create your project work, e.g. in the context of a student research project, including project description.
4.
You upload your project information to the cloud by July 31, 2023. And you're in!
You can find the detailed conditions of participation here.
Your work will be rated by a jury of experts based on the following criteria:
Innovation and creativity
Utility value, technological benefit, market opportunities
Use of standard and purchased parts, cost consideration, variability
Extra points for using norelem parts (free CAD download at www.3Dfindit.com)
Function and handling
Technological implementation
Upload as CAD and STEP file
WINNERS OF THE LAST YEARS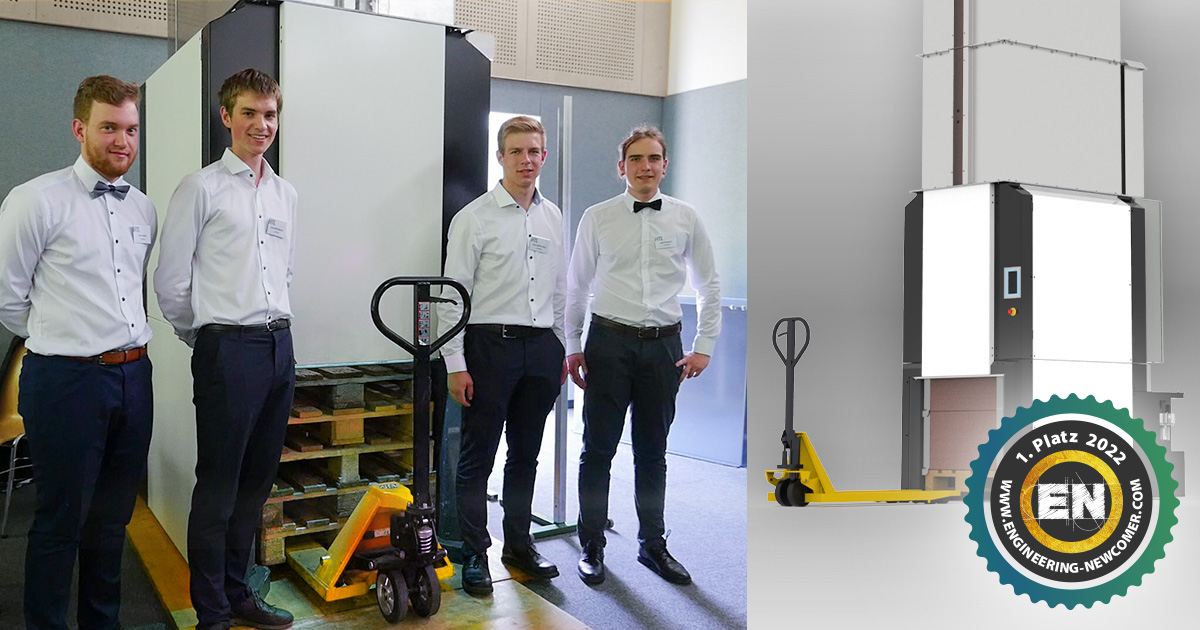 1st Place: PowerStack Multi 1600
The magazine is used for easy and safe storage of Euro pallets and collars. These can be placed in the magazine using a pallet truck, electric pallet truck or forklift. The magazine automatically picks up or retrieves the respective stored goods. It can also store up to 45 pallets or 16 collars. Up to 5 Euro pallets or 1 stacking frame can be stored at the same time.
Vitus Kehrer, Stefan Amerstorfer; Jakob Magauer and Jonas Wögerbauer, HTL-Neufelden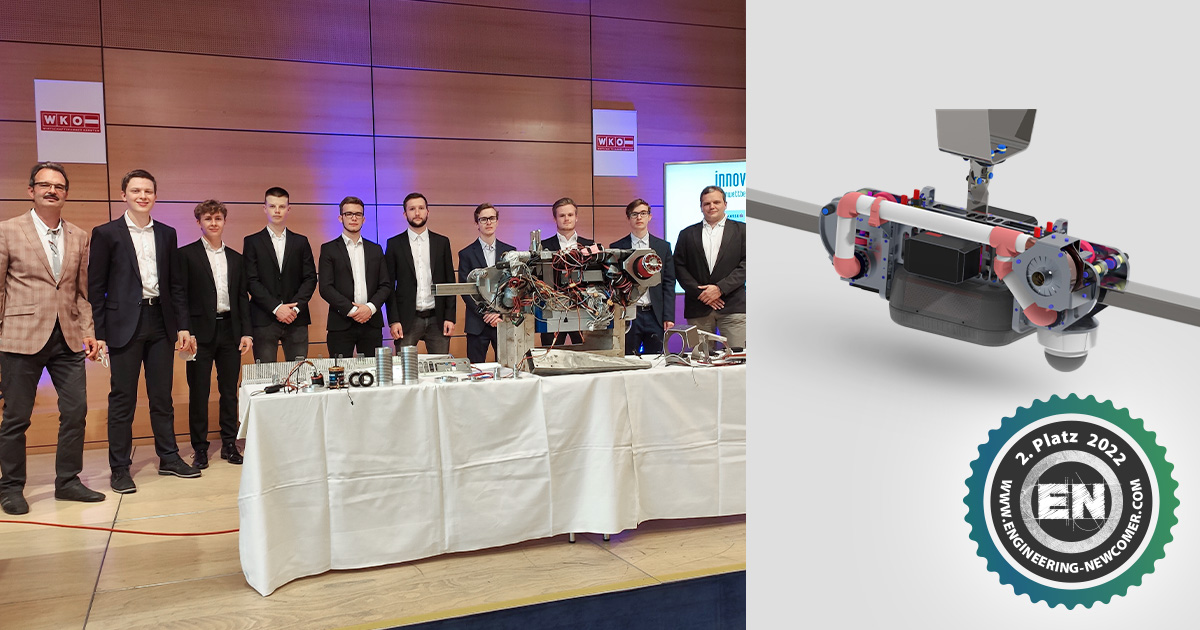 2nd Place: HASCY - HTLs ASFINAG Safety Cat
Tunnel surveillance system HASCY, a sled equipped with multiple cameras that can travel the tunnel on rails on the ceiling. Since a thermal imaging camera is also mounted, people can be detected even in the densest smoke. This optimizes the work of rescue workers and increases the chance of survival for accident victims. HASCY travels at up to 100 km/h in the tunnel and is remotely controlled by ASFINAG's operations control center.
Gilbert Tanner, Gabriel Tanner, Lukas Frisch, Emanuel Ladinig, Daniel Morak and Luca Jörg, HTL Klagenfurt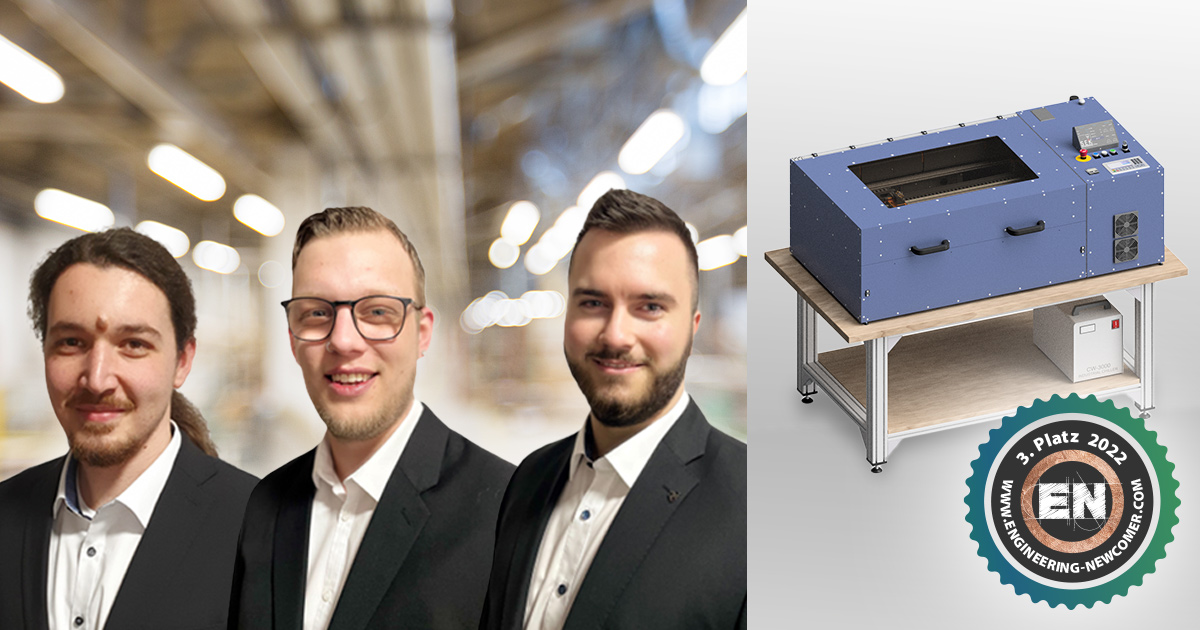 3rd Place: CNC laser cutting and engraving machine for individual single part production
A large machining area of at least 600mm x 400mm x 100mm (X,Y,Z) with a machining speed of at least 100mm/s was required. A total of around 60 different components were developed and manufactured in-house, and the machine itself consists of over 450 different components. The machine to be developed is to be used mainly for the work steps of engraving nameplates, cutting out covers for live components, cutting out retaining elements in control cabinets, manufacturing in-house standard parts and illustrating technical processes for interns and trainees in in-house production.
Moritz Exner, Sebastian Schnehage and Oliver Körber, Werner-von-Siemens Schule Hildesheim
ENGINEERING NEWCOMER LEADERBOARD
The Engineering Newcomer offers another incentive for educational institutions: The submitted entries and winning teams continuously collect points for their schools. At the end of each competition, it is revealed which institution has so far sent the most successful and creative young talents into the race.
The school that finishes in 1st place at the end of the competition can look forward to an additional €500.
Each submitted project gets 1 point. The winning schools earn an additional 10 points for 1st place, 2nd place receives 6 points and 3rd place is rewarded with 3 points.
YOU NEED 3D CAD MODELS?
3Dfindit by CADENAS is a free download service for CAD models with over 4000 manufacturer catalogs. You can download the CAD models in your preferred format such as Autodesk Inventor, Solid Edge, PTC Creo Parametric, AutoCAD, CATIA or SOLIDWORKS and insert them into your construction.
REGISTRATION ENGINEERING NEWCOMER 2023